EHang Inaugurates Its European Urban Air Mobility Center for Unmanned eVTOLs
GUANGZHOU, China, Nov. 01, 2023 (GLOBE NEWSWIRE) — EHang Holdings Limited (Nasdaq: EH) ("EHang" or the "Company"), the world's leading Urban Air Mobility ("UAM") technology platform company, announced the inauguration of its first European UAM Center in Spain. Located inside the Lleida–Alguaire International Airport ("LEDA"), the center represents the first-of-its-kind in Europe for unmanned electric vertical take-off and landing (eVTOL) aircraft, setting a benchmark globally for the effective integration of eVTOL aircraft operation with airport infrastructure, air traffic management systems, operational procedures, and other information technologies.

(Photo: EH216-S flying at LEDA with the airport, vertiport and planes behind)
The inception of this UAM center, a globally pioneering initiative, arises from the collaboration agreement signed between EHang and Aeroports de Catalunya in the field of UAM and will enable European aviation and airport sectors to be positioned at the forefront of global Advanced Air Mobility.
On October 13th, 2023, the Civil Aviation Administration of China (CAAC) issued the Type Certificate (TC) for EHang's EH216-S passenger-carrying Unmanned Aircraft Vehicle (UAV) System. An unprecedented milestone in the aviation industry, the EH216-S is the first unmanned eVTOL in the world to obtain TC and be qualified for commercial passenger-carrying UAV operations in China.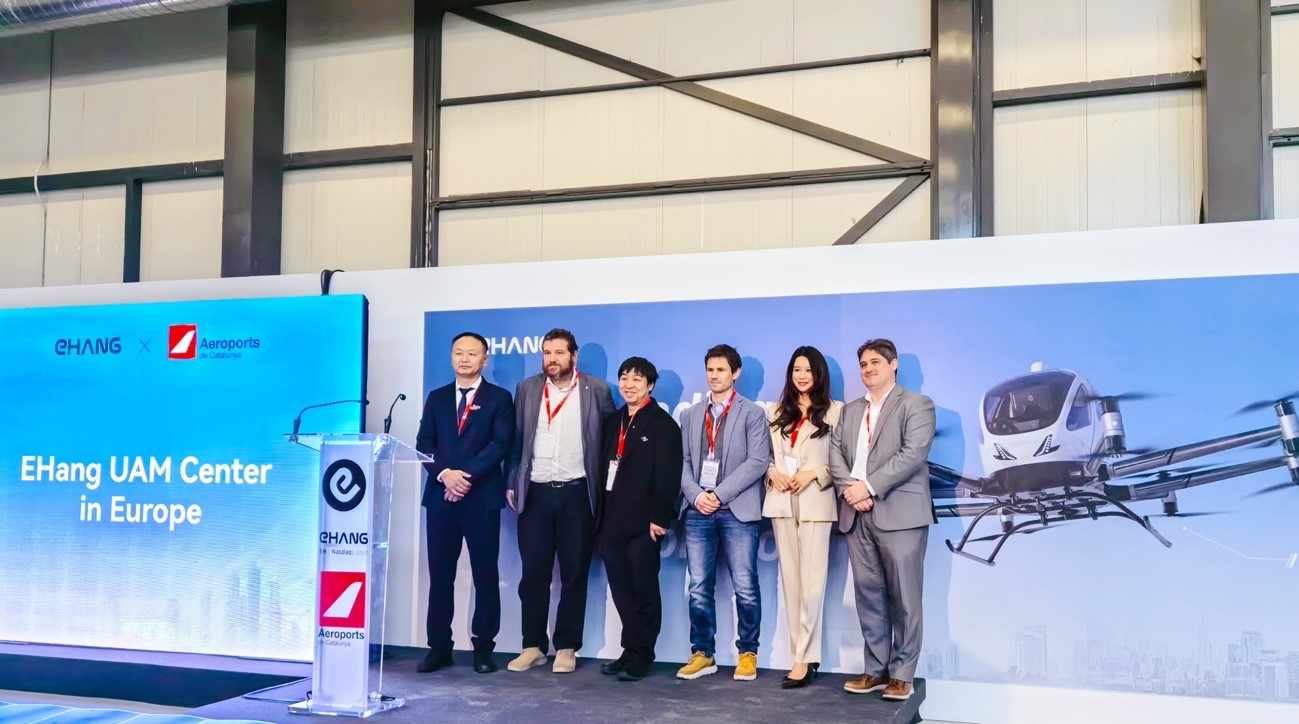 (Photo: EHang's European UAM Center inauguration)
The EH216-S deployed at EHang's European UAM Center will foster the accumulation of operational experience as well as invaluable knowledge. By integrating vast flight experience gathered from various locations worldwide, this collective information can be leveraged to the development of technological solutions, regulations, processes and procedures for the safe and efficient integration of eVTOL aircraft into European airspace in the future.
The UAM Center includes a vertiport that is fully compliance with EASA's design criteria and will enable seamlessly incorporation with the airport terminal, platform, control tower, equipment, procedures and regulations. This state-of-the-art vertiport will set a benchmark for global UAM infrastructure and accumulate a vast amount of knowledge and expertise on the vertiport establishment and operations, which will enable intelligent eVTOL operating models and facilitate their smart deployment across multiple locations.

(Photo: Mr. Marc Sanglas, Secretary of Mobility and Infrastructure of Catalonian Government in Spain, Mr. Huazhi Hu, Founder, Chairman and CEO of EHang and Ms. Victoria Xiang, COO of EHang Europe and Latin America delivered speeches at EHang's European UAM Centre inauguration)
During the inauguration event, Mr. Huazhi Hu, Founder, Chairman and CEO of EHang, stated, "The establishment of EHang's European UAM Center marks an important step forward in the Company's international development. Through this world-class UAM center, EHang expects to manifest its strong commitment with the development and deployment of UAM in Europe. EHang aims to share our certified and validated technology and operational experience with our partners around the world in the future to make our shared vision for benefiting all of society with safe, autonomous and eco-friendly UAM solutions."
Mr. Marc Sanglas, Secretary of Mobility and Infrastructure of Catalonian Government in Spain, commented, "We are especially proud of the cooperation with EHang, a leading technology company in the development of unmanned aerial vehicles in the world, to whom we are grateful for having chosen our international airport as their first European UAM Center."
Ms. Victoria Xiang, COO of EHang Europe and Latin America, commented, "EHang's European UAM Center was initially conceived for supporting the Company's operations and activities under SESAR-JU's U-ELCOME and EUSPA's SAMVA projects. In addition, we are looking at scaling its applications to advance innovative air mobility projects as well as EASA's certification and airworthiness requirements to further promote industry development and make UAM a reality in Europe, which is a future we are looking forward to creating."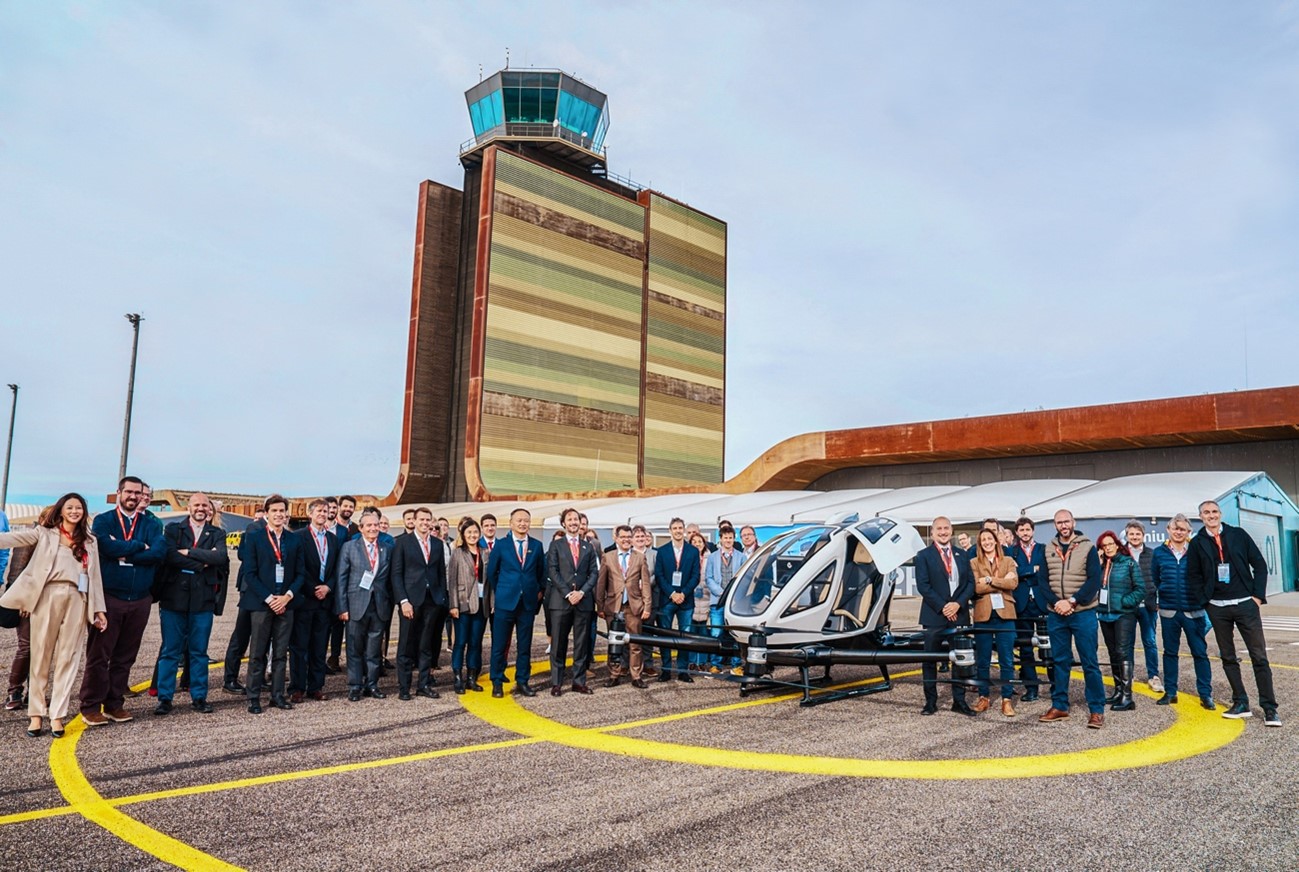 (Photo: EH216-S at LEDA Vertiport with the airport behind)
About EHang
EHang (Nasdaq: EH) is the world's leading urban air mobility ("UAM") technology platform company. Our mission is to enable safe, autonomous, and eco-friendly air mobility accessible to everyone. EHang provides customers in various industries with unmanned aerial vehicle ("UAV") systems and solutions: air mobility (including passenger transportation and logistics), smart city management, and aerial media solutions. EHang has obtained the world's first type certificate for unmanned eVTOL from the Civil Aviation Administration of China in 2023. As the forerunner of cutting-edge UAV technologies and commercial solutions in the global UAM industry, EHang continues to explore the boundaries of the sky to make flying technologies benefit our life in smart cities. For more information, please visit www.ehang.com.